Team Provider Feature: A-One Blinds New Owners Gearing Up for the Future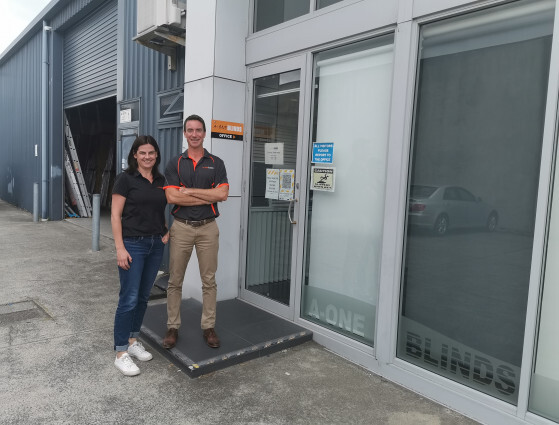 Team Provider, A-One Blinds, was recently sold to new owners, Ben Shaw & Melissa Olsen, who are already taking the business from strength to strength as well as creating new jobs for the local community.
Established in 1999, A-One Blinds has enjoyed an excellent reputation and loyal customer base in our region. Well-known for manufacturing high quality custom blinds, the business offers roller blinds, venetian blinds, vertical blinds, cellular blinds and shutters from their factory in Mount Maunganui.
"We are excited to take on such a well-established business which has a strong reputation and history in our region," says Ben. "Our focus will continue to be on putting our customers first and providing a great quality product.
All the original A-One Blinds team have been retained by the new owners with an additional 3.5 new jobs created and filled recently.
Taking over the business earlier this year has been a huge new experience for Ben & Melissa who both previously held highly successful marketing roles in large corporate enterprises in Auckland and, more recently, in Tauranga. Moving to Mount Maunganui six years ago for the lifestyle, they have two young children in the local primary school and an exciting new business opportunity just around the corner too.
Both Ben & Melissa see a great future for the business and opportunities to explore.
"There is a growing trend in motorised blinds," explains Ben. "We are aiming to lead the way with our motorised products plus there are some great new ranges in sheer and textured roller blinds which are already elevating this category."
We wish Ben & Melissa well with their new venture and encourage all our Team Builders to stop by the A-One Blinds showroom to say Hi and see what's new in the world of custom blinds.