Christmas Comes Early for Team Providers & Builders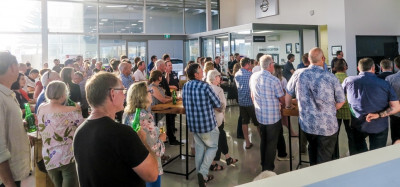 With sixteen Christmas hams given out and two major prizes of free travel & five nights accommodation for two to a Trans-Tasman destination, there was plenty to celebrate at our Team Local Christmas function this year.
Our annual Christmas get-together, funded by our Team Providers for all Team Builder members and their partners was a great success. The all expenses paid event hosted by Farmer Auto Village included catering by the Kiwi Spit Roast Company, an open bar and a band.
Catherine & Kay from You Travel presented the two major spot prizes for the night. John Marsh from Josh Mar Development and Helen Shearman from Glass Art NZ were our lucky winners now facing the envious task of deciding when and where to use their fantastic travel prizes.
An extra thanks as well to our Team Providers for sponsoring this event and to all our Team Builders who came along and showed their support for Tauranga's only local loyalty programme for the construction industry.
We hope you enjoy the photos here and hope to see you all again next year!