McLeod Hiabs Lift Business Performance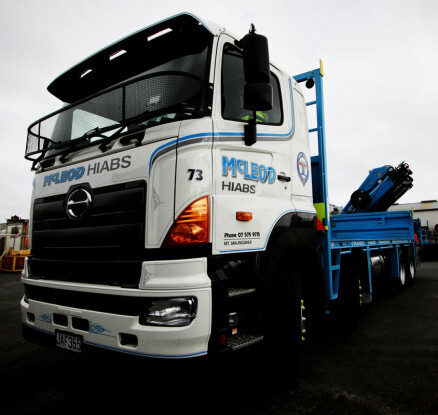 No two ways about it. At McLeod Hiabs, our focus is on your business, and what we can do to add efficiency and value. So we take a different approach from the usual.

It's not just a matter of sending out hiabs when they're wanted. You can take it for granted that we'll be wherever we're needed, on time, with the right gear. It's a matter of deploying our knowledge, our fleet flexibility, our planning capability, to achieve your best service and support.If there's anything we can add to customer competitiveness and profitability, we're on to it. A better way of using our fleet, better
management systems, superior human capability. Because focus on business value is what it's all about for us. It results in better deployment of customer time and budgets. In simplest terms, we help you find money. Save money via measurably increased efficiency, keep money that would otherwise be at risk.

Importantly, we have unusual, if not unmatched, systems in health & safety. As a key part of the McLeod group, we share in operational
standards that have earned a succession of national safety awards. So we understand risk management. We know how to protect you from the unforeseen, and we never take our eye off the safest working practices in the industry.

Fleet size? In a little less than three years, we've taken our fleet from 8 to 27 hiabs. We'll soon be on our way to 40, maybe more. It's a key measure of the customer value of our service approach.

But scale is just one thing. There's more though. It comes back to our ways of working. Our fleet management systems, our dispatch procedures across varying, often fast changing network needs. And these systems give us formidable flexibility.

Altogether, it means we run comprehensive, integrated, totally flexible capability from Auckland south, through Waikato, the wider Bay of Plenty, down to Taupo and beyond.

Add in our access to craneage, via McLeod Cranes, and our flexibility leaves competitors behind. We're completely familiar with intermodal operation. Simply, if there's an advantage to you in using a crane at any point, consider it done. Smoothly. Seamlessly. Safely.

One more thing. And it's far from the least. It's the calibre of our people. Our operators are NZQA accredited, often with further qualifi cations. They're people that thrive on expectations of performance. And performance — customer performance — is the theme that runs through everything we do. As we and our customers know, every other way of doing things is a step backwards.

If you're looking for a measurable competitive advantage, we're focused on exactly the same thing. On how we can deliver it to you. So don't just call for hiabs. Give us a call.