New Team Provider & New Premises for Foster Concrete Pumps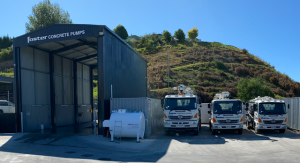 We want to take this opportunity to welcome Foster Concrete Pumps as our newest Team Provider to Team Local. Now you can earn Team Local points when you use their services for your next building project.

Specialising in block fill, house floors and retaining walls, Tauranga's leading and already well-known concrete pump supplier, Fosters Concrete Pumps, has recently upgraded to a new facility out at Tauriko at 82 Paerangi Place (right next door to Doherty).

Fosters has 15m, 19m and 29m certified boom pumps which allow the team to handle even the most challenging concrete pumping jobs.