Team Provider Feature: NZ Windows Ute Gets Pimped by Bay Form Engineering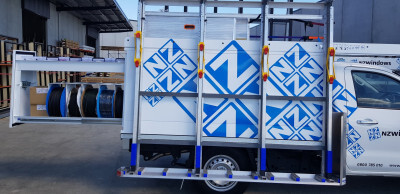 NZ Windows glazing team now has a pimped out ute to glaze on site.
Previously limited to what they could stack on the ute and in boxes, the addition of the custom design storage box has been a real game changer for the team! Featuring a sliding drawer system to store and organise all the essential parts and accessories for completing their glazing jobs.
Armed with a rough idea on what they wanted to achieve, the team at Bay Form Engineering helped to fill in the gaps and came up with a clever design to add an integrated storage unit and sliding display system to their utes. This innovative solution has meant the glazing team can now travel to every project in confidence, know they have everything the need and easy to find when they are on the job.
A massive thanks to the design and manufacturing team at Bay Form Engineering who helped bring what was originally a draft idea to fruition. This was a collaboration that worked well for both businesses.