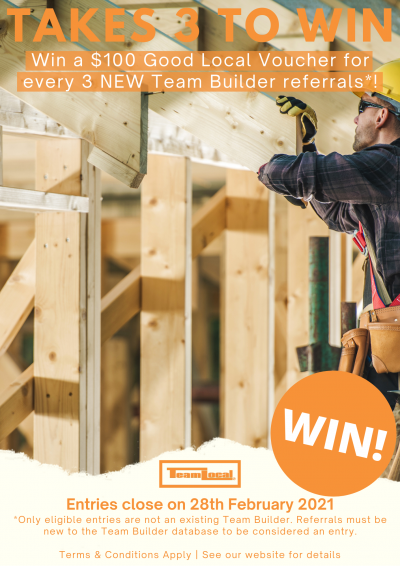 Team Local is running a referral program for all Team Providers... Win a $100 Good Local Voucher for every 3 NEW Team Builder referrals you submit into the Team Local database!
Enter as many times as you like before the competition closes on 28th Feb, 2021. Every verified 3rd NEW Team Builder wins you a $100 Good Local Voucher.
HOW TO ENTER:
- Go to the registration page here...
- Enter the Team Builder contact's details in the 'Your Contact Details' section – please confirm your contact agrees to their details being entered into our database.
- Enter your name and the name of your business in the 'Referred By' section.
- Enter a generic Login (your contact / referral can change this once their registration is approved).
We will verify all details and confirm the registration is a New Team Builder. You will then receive a $100 Good Local Voucher for every 3rd verified entry received before 28th Feb, 2021.