Team Provider Feature: Battenman Tauranga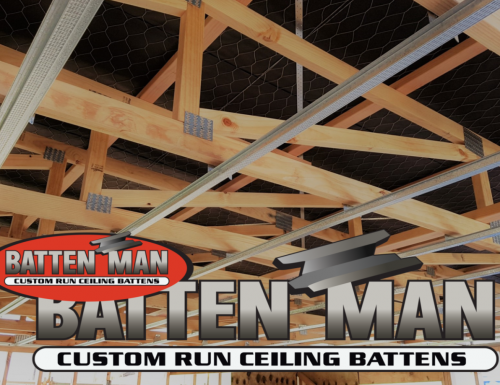 Tauranga Battenman Installer, Mitch Peard, has been a Team Provider for some time now and the person to call when you need your Battenman ceiling or roofing battens installed.
Battenman is the New Zealand manufacturer of custom run steel ceiling and roof battens. All Battenman products are cut to length specifically for each room. Their premium galvanized steel profiles have been designed to reduce overall construction cost whilst improving quality in a range of applications, including:
Steel ceiling battens for installation of Plasterboard & Gypsum ceilings;
As structural bracing in residential and light commercial applications;
As fire resistant cavity battens for installation of cladding systems; and
ROOFBATTENZ

®

steel p

urlins for installation of a range of roofing materials.
BATTENMAN CEILING SYSTEMS
The BATTENMAN CB-22 and CB-35 ceiling systems provide construction professionals with a premium plasterboard fixing substrate, for all residential and light commercial projects.

Compatible with all popular domestic ceiling plasterboards, BATTENMAN Steel ceiling battens provide significant advantages over traditional ceiling fixing methods including high strength, light weight plus they won't shrink warm, twist or burn.

The custom run battens minimise construction waste, which is not only better for the environment, but is more cost effective for the end user. It also makes the system considerably faster to install.

The 22mm or 35mm deep profile can be used both as a ceiling batten for internal fixing of ceilings and wall linings.

The top flange of the profile has an embossed surface to increase surface area for Plasterboard adhesive, while also functioning as a screw guide. Making it easier for plasterboard fixing screws to grip and "bite-in" without slippage during awkward installation positioning.


BATTENMAN TAURANGA
To find out more visit the Battenman website here or give Mitch Beard a call on 027 575 9702.