Technology Students Nail It!
Back in the day they were called woodwork and metalwork. Team Local visited two local colleges to have a chat about what the young people of today are creating in these classes now called things like Hard Materials, Product Technology, Product Development, and Trades.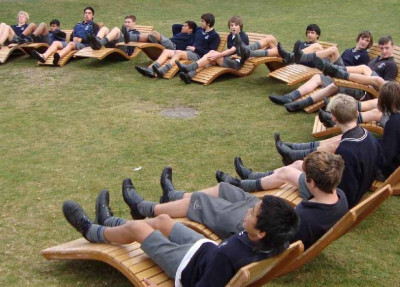 Blue tooth speakers, custom-made scooters and gaming chairs. These are some of the products being created in the technology rooms in our Bay of Plenty colleges. It's a far cry from the days of pencil cases with sliding lids, paper towel holders and bird boxes. Hammers and nails still have a place, but so do 3D printers, CAD systems and Computer Numerically Controlled (CNC) machines. There's been a change in the sort of product created, and how it is created. But that's not the only thing.
Gone are the days when all students created the same thing within the school workshops. There has been a shift to student-centred learning, with the students designing and developing their own product. Students are given the parameters of a context to work within, but there's flexibility around what they create. That context may be, for example, to create a human powered vehicle or create a personal speaker system.
Aquinas College technology leader of learning Peter Nicholson says it's a positive thing that the curriculum is no longer so generic. The current approach fosters creativity and encourages innovation, he says, with students determining what they will make to address issues and needs and ensuring they have an authentic context. Of course, there is a given process, he says, explaining how things function for Year 10 level and above.

"I give students quite a broad context to work within. From there they find a stakeholder and an issue or need that needs addressing. They will then, in consultation with their stakeholder, develop a design brief assessing the specifications of what the product's function is, its strength, how it will look, what materials should be used, how it could complement the environment… those sorts of things.
"The next step – also in consultation with the stakeholder – is the design process. And lastly, it's workshop time and it's very much a case of project management and producing the product. Then there's evaluation based on the specifications and constraints of the brief."
It's exciting to see just how innovative some students can be, Peter says. They may have a "really fantastic" idea for a product and the college then enters these students for the Young Innovator Awards.
Current Year 13 student, Roisin Boyle, created a product two years ago, based around a need she determined from her surf lifesaving involvement. Called The Buoy Friend, her product was a device to assist buoy placement to aid surf lifesaving drills.
Roisin 3D printed her product in ABS plastic and polycarbonate, with some parts printed in titanium too. Her happy stakeholders were local and national surf lifesaving clubs.
At Aquinas College the subject Peter teaches is called Materials Technology (although the students tend to call it Hard Materials) at the lower levels, and then Product Development at senior level. There's a definite move down the
engineering line of things at Year 13.
"There's more core engineering skills, project management, 3D printing, programming, CNC machine routering," Peter says. "It really is a very diverse subject and I love it.
"The Ministry of Education is pushing all these 'new' and innovative ways of
teaching involving group work, collaboration, students managing themselves,
authentic context… In the subject I teach this change is negligible as it's what we've been doing for a long time. Our subject is almost a flagship model for that," he says.
At Aquinas College, the subject that was, once-upon-a-time called Technical Drawing, is now called Graphics. At Tauranga Boys' College, for example, it is called Design and Visual Communication (DVC).
At Tauranga Boys' College the sheer number of students enables three different pathways through in this curriculum area: Design and Visual Communication (DVC), Product Technology Stream, and Trades Stream.
Head of Faculty for Technology, Steve Ronowicz says the Product Technology Stream involves the student-centred design and development of their own product. It's about developing those so they are fit-for-purpose and testing
them against a design brief.
In Year 9 his students will make bluetooth speakers (the number of different outcomes equals the number of students). In Year 10 they will make either a gaming chair or custom-made scooter. In Years 11 & 12 they will be involved
in individual design projects.
"In Year 11 we design a context for them. The context may be storage, and the things students have opted to do within that context have included fishing rod holders, kayak roof rack, or a shoe storage box for home, for example.
"In Year 12 we give them two contexts (a bit more freedom) and these are marine environment or transport. It's very rare for boys to not be able to come up with some very cool ideas within those contexts. At the moment I have a boy developing an off-road trailer to go on the back of his endurance off-road motorcycle, I have boys developing electric vehicles, and a boy creating a wakeboard rack to go on the side of a jet ski.
"In Year 13 it is completely open as to what they make. They identify the need," Steve explains.
Meanwhile, the college's Trade Stream course recognises there are boys who don't relate so much to the design aspect of the product technology course. They may be focused on going into the trades. The college runs trades-related courses in both the broader engineering and building-related trades.
"Within this stream, what the younger students are doing would corelate to what was metal work and wood work in the old days. The Year 12 and Year 13 students work on a building site we have set up at school as an apprenticeship course. They work away from our workshops on that site and
build decks and small buildings. On the engineering side of things they run an automotive course," Steve says. This is carried out in conjunction with BCITO.
Right across the department the boys learn to programme and run a CNC machine (they start using them, at a basic level, at Year 9).
"This has been huge and we are well and truly into this in a big way. It is one of the things that has really rejuvenated an enthusiasm for teaching over the last 10 years," Steve says.
He says the pre-curser to all is that he wants students to be innovative. He believes this is what will make life sustainable and enjoyable.
Steve wishes to see technically critical students who are able to question and critique.
"I want them to say, 'yes we could develop this product, but, in its form, should we'? I want them to say 'yes, dollar wise I see the point, but really we shouldn't. Is this a good idea from an environmental point of view and is it socially responsible'? The key drivers should be social and environmental
responsibility, not money. We want students who can at least have that conversation."