Be Part of the Team Local Community!
While earning points for spending on anything you like is the main reward we provide our Team Local members, aka Team Builders; more are realising the value of taking advantage of our communication channels for promoting your business to all our Team Providers and Team Builders.
Since making the move to a full digital marketing programme and dropping our quarterly magazine, we have seen a big increase in our database, online audience and website visitor numbers. These platforms are also available to all our members to share news, promotions and offers from your business which is another added value to being part of our community.
Online Marketing Opportunities
Each month, we have a programme running per a content strategy agreed by our Team Local directors at our monthly board meeting. Our online marketing activities include:
Website News/Blog Post
Monthly eNews Email
Facebook Page
Google My Business Page
We invite you to support and come on board with all or any of these activities at any time. Simply by Liking, Commenting on or Sharing any of our social media posts, you are helping to build our community as a whole which is good for us all.
Grow Your Business with Team Local
You can also be part of our online community and effectively promote your business for free in the following ways:
Facebook

Like & Follow our page.
Add one of our Team Local Frames (see instructions below) to your business profile picture on Facebook.
Like or comment on any of our posts as your business eg. McCleod Cranes, so others can see your business on our page.
Email or message us with content you would like us to share eg. News, promotions, etc.

Website & eNews

Email us with News about your business that we can then share in our eNews and across all our social media pages.
Please make sure to include a photo relevant to your news or promotion.
Team Local Facebook Frames
We have created a range of Facebook Frames which you can add to your business profile picture on your Facebook page as shown here.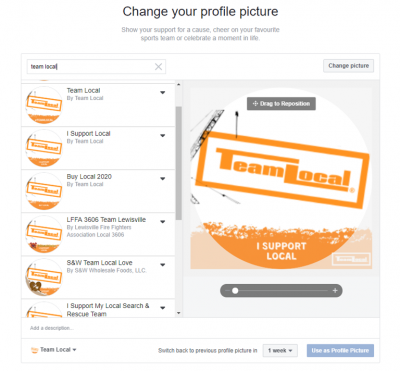 To add a frame to your profile picture…
Select your Page from the bottom left corner (as shown above).
In the top left Search box enter 'Team Local' to find all frames.
Choose one of our 3 frames, 'Team Local', 'I Support Local' or 'Team Local 2020'.
Click Use as Profile Picture.