Designer Homeware Upgrades to New Premises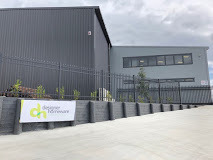 It's always good news when we hear that one of our Team Providers has outgrown their original building and moved into a larger building, creating more capacity and room for more growth.
Designer Homeware works with all our major group builders as well as many independent building companies, interior designers and architects to deliver custom shelving and storage systems for wardrobes, laundry areas, garage storage, office spaces and more.
From an initial consultation, the in-house designers create the drawings and specifications for the wardrobe or storage units required. On approval by the customer, these designs are then fed into the factory for custom fabrication before final installation which is all included in the service.
"Previously we were in Koromiko St which was a real rabbit warren of a building with the team having to work in different rooms and everyone was split up throughout the premises," explains Dan McLean, General Manager at Designer Homeware.
"Our new premises in Tauriko is a brand new, purpose-built factory which has not only allowed us to double our machinery but also exponentially increase our capacity due to the new machines we've purchased."
While the added advantage for the business is their ability to now meet increasing demand and growth, the real benefit has been to the team and company culture.
"The new building has meant everyone can now work closer together," says Dan.
You can visit Designer Homeware's new factory and showroom at 54 Gargan Rd, Tauriko or find out more on their website here.
As a Team Provider, every time you purchase products from Designer Homeware you will earn Team Local points which you can use to spend on anything at all!