Everything You Need to Know About Contact Tracing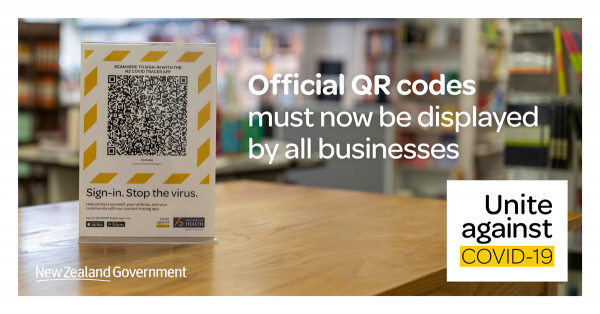 Business.govt.nz sent out a timely update covering everything you need to know about Contact Tracing as all businesses and workplaces must display the official NZ COVID Tracer QR codes and have another way for people to check in.
At Alert Level 2, 3 and 4 some businesses are required to ensure that people scan in or leave their details.
You can read the full story here, or we've got a short summary below...
The rules on record-keeping to support contact tracing
At Alert Level 2, the contact record rule applies to visitors to listed businesses and services where there is likely to be close contact between workers and visitors, or between visitors who do not know each other. It does not apply to retail businesses, including supermarkets, dairies and banks.
It does not apply to the workers in those businesses or services, but we recommend you keep track of when your workers are present and what locations they work at.
Get your NZ COVID Tracer QR code
Generally, every business and service must display an official NZ COVID Tracer app QR code at all Alert Levels.
Generate a QR code by visiting the COVID-19 website.
Get your QR code poster(external link) – covid19.govt.nz
Businesses can also download QR code posters through MBIE's Business Connect. If you are already registered with Business Connect, simply log in to the service(external link) to get started.
A separate QR poster is needed for each unique location. Each location must display their poster in either a prominent place or near main entrances. This does not have to be a fixed location. We recommend you get a QR code if your business is a mobile business, such as a food truck.
Businesses and services include:
voluntary and not-for-profit services
both public sector and private sector businesses and services
businesses and services that provide space for other businesses and services to operate within, such as shopping malls and marketplaces
businesses and services that provide facilities or venues for events or activities if people pay to attend the event or participate in the activities or pay to hire the facility or venue; and
playing sports professionally or semi-professionally.
For the purposes of displaying a QR code, a workplace has the same definition as in the Health and Safety at Work Act. This means that a code must be displayed at any place where work is being carried out for a business and includes any place where a worker goes, or is likely to be, while at work.
QR codes for mobile workers and delivery vehicles
If your workplace is a customer's premise or a vehicle, you do not need to display a QR code. This means that tradies (such as plumbers), couriers and delivery drivers will not need to display a QR code when making deliveries to customers or working in someone's home. However, physical distancing requirements will apply, and you should keep detailed records of your movements. This can be paper-based, such as a diary, or electronically.
Tips on displaying your poster
Each QR code poster relates to a specific premises or location. Print as many copies of the poster as needed to ensure there is one displayed prominently at or near every entrance to the premises. Feel free to print additional copies for display in other places, such as at the register.
Print your posters in A4 and in colour (if possible), and do not crop them – they must be displayed in their entirety.
Place QR code posters in accessible places
Make sure to put your QR code posters on display in prominent locations next to every entrance to the premises.
If you can, place a poster on the left-hand side of your front window or entrance, with the top approximately 130cm from the ground. It is key to make it easy for people to reach without creating an obstruction.
Try not to place your posters on sliding or revolving doors, in narrow or hard-to-see areas, in places with high glare, or in locations that are too high or hard to reach.
How to display your QR code poster(external link) — Ministry of Health