Team Provider Feature: LogoTech Tauranga - New Owner Brings Fresh Look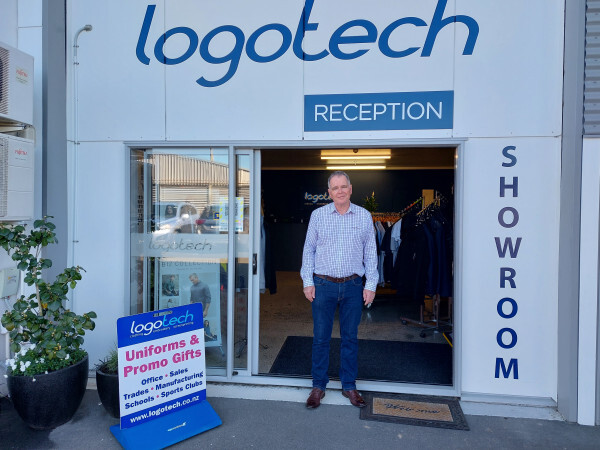 Tony Carson will be the first to agree, there's only so much time you can relax and go golfing. For Tony that time was a bit over three years. Now he's ready to put his business and finance cap on and take on some fresh, new challenges at Logotech.
Well known in Tauranga and throughout New Zealand as the place to go for branded corporate clothing, workwear, safety, suiting and hospitality uniforms. They also provide a wide range of promotional goods. From mass market give away to special gifts for clients or employees.
Logotech has been around for over 30yrs under the management of two previous business owners - the most recent of which led the business for 13yrs. Recognising Logotech as an already successful operation with some good room to grow, Tony decided the time had come to park his golf handicap and get back into running a business again.
With a background in finance and commercial brokering, Tony has also previously owned a group of three childcare centres in Hamilton.
"That was really hard work," says Tony. "This time I wanted to go into a good business that wouldn't take so much of my time but give me something more to do than just playing golf all day."
With a small but dedicated team of 12 including four salespeople, an embroidery manager, print manager and sales manager, Tony is now steering the business into development mode.
"We are looking to employ new people as well as implement a customer relationship management system and telemarketing to maintain contact with all our clients who are scattered throughout New Zealand, from the top of the North Island to the bottom of the South Island," explains Tony.
With a huge range of clothing available through their 35+ wholesale suppliers, Logotech can bring you a huge range of top-quality goods at fantastic prices. Their sales staff provide a specialised consultation service and able to recommend the right item for each product type and circumstance.
Tony continues, "The majority of our work is for large corporate and government organisations plus we do a large amount of workwear and corporate clothing for small to medium sized businesses here in Tauranga and nationwide."
Team Local members typically ask for the hard-wearing outdoor gear and hi-vis range clothing.
Logotech's well stocked show room has a wide selection of garment options for you to choose from. Just talk to one of their specialist sales staff about your requirements and you can trust they will meet your needs.